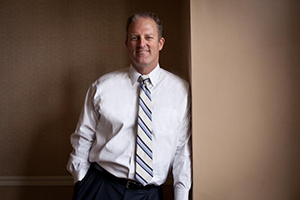 Three factors have been primary forces in shaping who Chris Tschieder (it's pronounced Cheeder) is and what matters to him – football, the Air Force and the courage of his wife, Beth.
He grew up in Orlando and remembers what it was like pre-Disney; a small agricultural town notable mostly for vast expanses of citrus groves. He lived with his parents and two younger sisters in a lakefront home on Lake Orienta and played sports year-around.
As an offensive lineman for the Lyman High School Greyhounds, Chris made the all-state team his junior and senior years. Football was a means to an end, he says. But the game taught him about overcoming adversity and that hard work pays off.
Of the handful of scholarship offers that came his way, he chose the U.S. Air Force Academy in Colorado Springs.
"It was a very atypical college experience," he says. "You're in uniform all the time. They take away your rights and give them back to you as privileges. Summer break was three weeks. Lots of structure, very little free time. I went from an easy going high school kid to a serious college student."
Chris spent nearly nine years in the Air Force after graduation, first at Wright-Patterson Air Force Base in Dayton. At the age of 27, he was assigned to GE's Evendale aircraft engines plant. While at GE, he earned his MBA at Xavier and jokes that he left the Air Force for the stability of the finance industry.
He met the woman who would become his wife at the old Flanagan's Landing one Friday night before a Reds game in 1990. The Reds went wire-to-wire that year, then won four straight in the World Series. A photo of that team – Chris Sabo, Hal Morris, Barry Larkin, Eric Davis, Jose Rio and the rest of them -- celebrating on the field after Game 4 hangs in his office. "Beth and I took in quite a few games during that magical season," he says. The magic was more about her than the team.
In 2006, Beth was diagnosed with ovarian cancer, stage 3. It's a form of the disease that doesn't come with much hope in terms of its survival rate. Beth endured a year of treatment that included radiation therapy, chemotherapy and three surgeries. The following year, she went into remission and has stayed there.
Chris no longer takes much for granted. He and Beth have a daughter, Lauren, and a son, Graham. Once the kiddos are out of the nest, Chris is looking forward to engaging in Cincinnati's non-profit community. He says he is first of all a family man.
"I like the client-centric model at Johnson Investment Counsel. That culture is reinforced every day –, by the caliber of the people here, the tools we have for our clients and how our performance is evaluated. I plan to end my career here, hopefully many years from now."