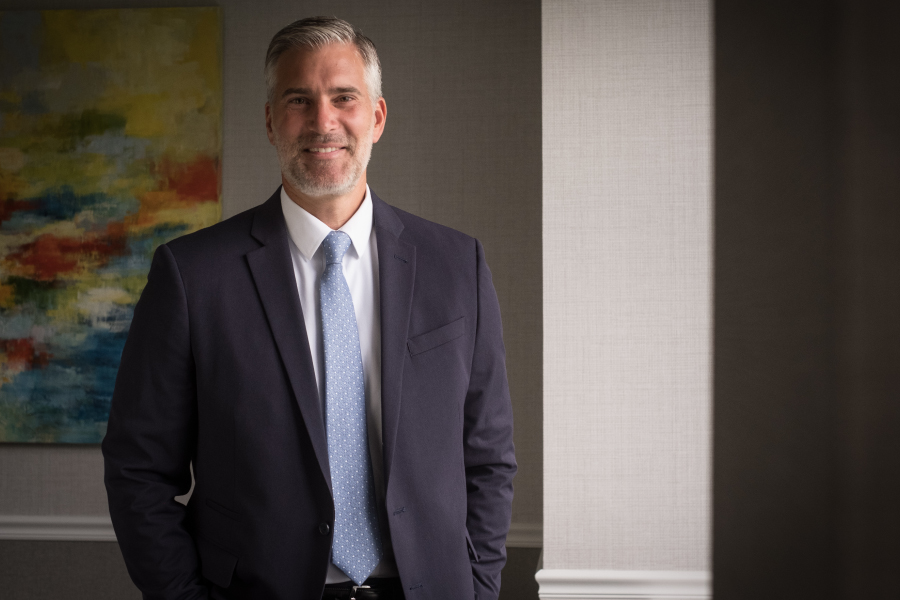 Jarett Levitsky started at Johnson Investment Counsel in 2000 and comes from a small town America that doesn't much exist these days. Or one we don't hear much about anyway.
He and an older sister grew up in a rural setting outside Marion, Ohio, in a house set back in the woods. Jarett recalls his father, an ophthalmologist, was deeply influenced by the 1956 film, "Friendly Persuasion," the story of a Quaker family struggling to maintain a peaceful life against the backdrop of the Civil War.
"Dad patterned elements of that movie into how he and Mom raised the family. So he found a home for us in the woods. We had chickens, rabbits, and a big garden. Dad was big on us doing things together. It was a very traditional family."
Jarett went to a small church in a small town. The kids he attended kindergarten with were the same kids he graduated with, maybe 90 in all. He played varsity basketball and soccer for -- wait for it -- Pleasant High School. The school chose as its team mascot the Spartan, as if to offset the un-intimidating sound of the "Pleasant" part of its name. "The Pleasant Spartans!" Jarett says, grinning.
He's a lot like his father, he says, and his son, Micah, a college student at Cedarville, is a lot like him. "My dad was always very affectionate, very encouraging, simple in his tastes, never flashy. We spent a lot of time fishing, canoeing, raising chickens, and working outside together. I think of Dad, and I think of chopping wood, the smell of leather, Louis L'Amour books, and all that." And it's all flowed through to Micah. "He loves the outdoors, particularly hiking and rock-climbing and he's also quite a naturalist. He can identify most any bird and has a knack for finding the hidden things in nature that most people overlook. We'll be hiking and you turn around and he's snatched up a snake from the rocks. He'd be very at-home on National Geographic."
Jarett and his wife, Trish, connected as students at Asbury University, a small Christian school in the small town of Wilmore, Kentucky. Their daughter Chloe, currently in high school, plays soccer and got the nick-name "knuckles" for her aggression and toughness on the field, Jarett says, but she also loves the refinement of dressing nicely, quality teas, pretty hair, and the like. "She's also really good on an ATV" and is often found racing around on trails behind their home. They live in a small rural community outside of Cincinnati, which is very much like the community where Jarett grew up. He likes it that Johnson Investment Counsel is a fairly small firm. "Big would be hard for me," he says. "I enjoy connecting with people in a smaller setting."
His in-laws live close by and Trish's father is the pastor of a small church called Good Shepherd International, a body of believers dedicated to serving African refugees.
Jarett will tell you all good advice is rooted in scriptural wisdom. He says it's the source of any counsel he might offer. "I wake up in the morning ready to go. I love working with clients. I feel like my calling and my vocation are one and the same. I think after I retire, I'll still want to do this. I like to help people gain victory."