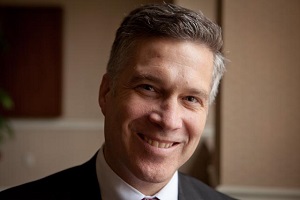 Fred Brink rarely meets a person he doesn't like. His internal compass naturally points to giving the benefit of the doubt. "There's always something good in everyone," he says. "Sometimes, you have to look pretty hard. But it's there."
He grew up in Perrysburg, just south of Toledo. His father owned a company called Brink Unit Step, which made pre-cast concrete steps. His mother stayed at home and did the books for the company. Fred says one big reason he decided to go to college was that he started working for his dad when he was 12 or so. His job was mixing cement.
"Seven shovels of stone, six shovels of sand, four of cement, then add water and mix it up. Then do it again. It was hard, hard physical work. My dad was six-three, played football in college. I was five-ten and 115 when I graduated from high school. By dint of that circumstance, I realized I needed to go to college and pursue a career where I could use my head instead of my body."
From his dad, Fred learned the value of hard work and business savvy. "Sometimes Dad's business was great, sometimes it was horrible. He told me if I ever go into business for myself, don't make a product that lasts forever, like cement steps. He thought bubble gum would be better, in terms of repeat customers."
His mother inspired in him faith and empathy. "She was brought up with the belief that if you don't have faith, you'll fail in times of crisis. She's 75 and still working in accounts receivable for an overhead door company."
Fred and his wife, Michelle, have two daughters, Abbie and Nicole. The family lives in Loveland. His greatest motivation is in making sure he takes care of his family.
He has always believed that if you want something, you should work toward it and save until you have enough to pay for that thing. It shouldn't be about immediate gratification.
Tim Johnson, the firm's founder and CEO, offered Fred a simple bit of advice when he came onboard in 1997, as Johnson Investment Counsel's first full-time dedicated Equity Analyst.
"He told me to focus on doing the right thing and everything else would fall into place. If the focus is on the dollars, it becomes problematic because I'm not thinking so much about helping people. There wouldn't be much satisfaction in that.
"Every day, I know I'm helping my clients. I actually see how it happens. It's so rewarding.
"You can actually see in their faces the comfort level they have knowing that you're really and truly concentrating on helping them. It's kind of selfish, in a way. I get to feel great about the work I do."