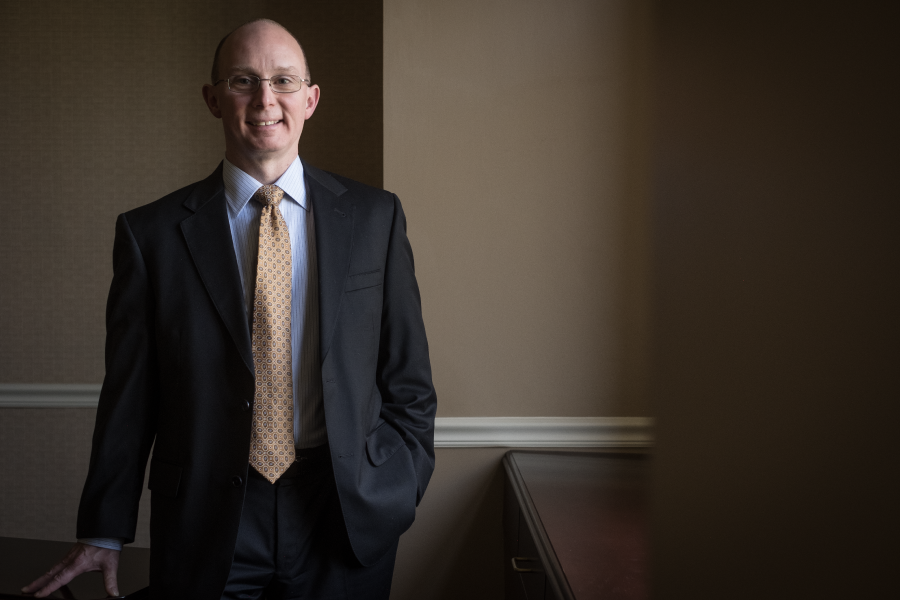 Joseph A. Henderson, CLU®, CFP®
Director of Southeastern Michigan Market, Portfolio Manager
Wealth Management Services, Metro Detroit
Joe Henderson is a saver. For instance, he got into coin collecting around the age of 10 when his grandfather on his dad's side gave him a silver dollar.
"I thought it was the coolest thing – I'd never seen a coin that big," Joe says. He liked the heft of it in his hand, the value it represented and the idea of all the other hands that held it before him.
He still has his boyhood coin collection. He has that silver dollar, too.
Joe grew up in Sterling Heights, a suburb northeast of Detroit. He's the youngest of five. His parents are the kind who worked their way up and who never settled.
Joe's father hadn't graduated from high school when he and Joe's mother married. But he worked hard, went back to school and climbed the ladder. He began his career as a blue-collar autoworker for Chrysler and, by the time he retired, had ascended to a management role. When Joe turned 8, his mother went back to work in the office at the Kmart in nearby Clinton Township. She retired as the store's office manager.
"My parents instilled a strong work ethic in me. They taught me to be straightforward, and they taught me the value of family. You're there for each other no matter what."
Joe met his wife, Andrea, at Wayne State University in Detroit. He was finishing the year as president of his Pi Kappa Alpha chapter, and she was a Delta Zeta. She invited him to her sorority's formal dance, and that was that. They have a son, Garrett, and two daughters, Regan and Delaney.
Most of Joe's free time is spent chasing the kids around to their various extracurriculars. For fun, he smokes a shoulder or a brisket on his Big Green Egg, which gets used year-round. He also likes gardening and thinks highly of his English bulldog, Ozzie – although, Joe says, Ozzie can be "quite a handful."
"If Andrea and I were to buy a cottage one day, I'd like to have a garden with green beans, peppers, cucumbers, zucchini, lettuce and tomatoes. Gardening is comfortable to me. There's an order to it. You have to do what the garden needs to have done."
As director of Johnson Investment Counsel's southeast Michigan market, Joe will tell you the key to helping clients succeed is having an ability to listen. "In our business, advisors can make a mistake if they're too focused on the latest and greatest idea or product. The important thing is to be secure in what you're doing and take the time to get to know your clients and what really will serve them best."