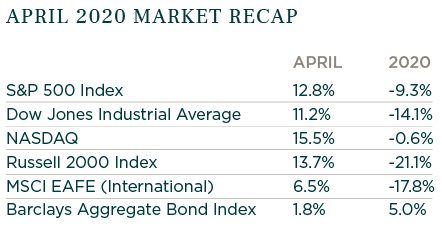 Stocks Rally in Best Month since 1987
The outbreak of COVID-19 sent stocks plummeting in February and March, until they bottomed on March 23rd, down 35% from the peak. But since then, stocks have shot higher in dramatic fashion. The S&P 500 Index gained nearly 13% in April, its best one-month performance since 1987. Overall the S&P 500 has rallied nearly 30% from the low and is now down less than 10% for the year. Stocks have turned higher as investors reacted to the flood of government support measures as well as optimism about the gradual reopening of the economy.
Tech, consumer, and energy stocks were the main drivers of positive performance, especially the largest tech companies. Apple, Microsoft, Alphabet (Google), Facebook, and Amazon now account for approximately 20% of the S&P 500 Index, and as a result are key drivers of overall index performance. Their strength has overshadowed the plight of the rest of the stocks in the index, which haven't recovered as much. It also helps explain why U.S. large cap stocks have outperformed other benchmarks of smaller stocks and international stocks. Still, those markets also bounced nicely in April, after severe selloffs earlier in the year. The big question is whether the rally is a new bull market or a "bear-market bounce." If it turns out to be the latter, the 30% bounce would be the largest since the 1950s.
Massive Economic Damage
The rally has occurred in the face of some of the worst economic data in the last century. In a matter of weeks, 30 million or more Americans were out of a job. More layoffs and business closures are expected in the coming weeks. Consumer spending has plummeted along with incomes. Many retailers are facing extinction, furloughing workers, and searching for financing in a desperate bid to survive. Roughly one-third of U.S. corporate debt is considered in distress, primarily in the energy sector, retail, and restaurant industries. Economists are forecasting negative GDP numbers for the second quarter that just a few months ago would have been considered unimaginable.
Chaos in the Oil Market
The rally also overcame historic turmoil in the oil market. Even before the coronavirus pandemic hit, oil prices had been falling due to excess supply and weak demand trends. The worldwide economic shutdown dealt a painful blow to demand that only exacerbated the imbalance. As oil storage facilities began to fill up, it became possible that anyone taking physical ownership of crude oil wouldn't have anywhere to store it. This caused the price of oil to drop below zero for the first time in history, as sellers of oil began to pay anyone willing to take the oil off their hands. The negative prices only lasted for a short time, but oil prices are still hovering at extremely low levels. The situation is likely to lead to devastating losses for many oil companies, many of which will not be able to survive. Lower gas prices are theoretically a silver lining for the broader economy, but with most businesses and consumers staying at home, few are able to take advantage.
Government Support Keeps Coming
Congress, the White House, and the Federal Reserve have provided enormous amounts of money to businesses and individuals to try to stop the bleeding. Total government spending so far stands around $3 trillion, most of which is included in the $2.2 trillion CARES Act. More is in the works. A majority of the money is being directed to individuals in the form of direct payments and small businesses in the form of loans. In a matter of weeks Washington has injected more money by far than it did in the entirety of the Great Financial Crisis a little over a decade ago.
The Fed has also gone "all in" to prop up the economy. In a matter of months the size of the Fed's balance sheet is set to double in size, and likely more. The Fed has committed to purchasing unlimited amounts of U.S. treasuries, as well as billions of dollars of other assets to ensure liquidity and market health. It dropped the benchmark Fed Funds rate to zero, and all indications are that it is prepared to do whatever it takes to sustain the economy until the worst of the crisis has passed.
Critical Months Ahead
As Asian and European countries have begun to gradually reopen their economies and relax shutdown orders, the U.S. has begun its own process. Meanwhile, health-care companies are scrambling to bring treatments and a vaccine to the marketplace. Governments are relaxing the normal timelines in an effort to speed up the process. It's uncharted territory, and the reopening process is likely to be one of fits and starts. Some states less impacted by the virus have chosen to err on the side of opening earlier in an effort to stave off further economic pain. Others continue in lockdown mode to prevent a setback in fighting off the virus. Each is trying to find the right balance, and economic forecasting in such an environment is even more speculative than usual. Many forecasters have abandoned the possibility of a broad "V-shaped" recovery, instead predicting a slower, uneven process. These economic challenges will continue to pressure companies, likely leading to a more volatile summer than usual in the market.
Disclaimer:

Any expectations presented should not be taken as a guarantee or other assurance as to future results. Our opinions are a reflection of our best judgment at the time this presentation was created, and we disclaim any obligation to update or alter forward-looking statements as a result of new information, future events or otherwise. The material contained herein is based upon proprietary information and is provided purely for reference and as such is confidential and intended solely for those to whom it was provided by Johnson Investment Counsel.