For those of us who are sports fans, watching our favorite team can be a gut-wrenching roller coaster ride. Watching our teams play often results in lots of hand-wringing, pacing around the living room, and occasionally shouting at the referees. That being said, we can take some solace in one fact: we are not playing nor coaching, so we have no control on the outcome of the game. Because of this we shouldn't get too worked up. Win or lose, it's not a life-changing event for most of us.
We can draw an interesting parallel to our financial lives which can be captured in one succinct statement: Control what we can control. As we often tell clients, we can't control interest rates, volatile stock market returns, Fed policy, trade policy, or global economic trends. Because of this we should plan for multiple outcomes. But most importantly, we must control what we can control.
While there are many factors we can control in our lives (work ethic, education, proper planning), we want to focus on one factor with ENORMOUS but underrated impact on the success of our retirement strategy. What is that factor? Spending. To illustrate, we have assembled scenarios demonstrating the impact of different levels of spending and different levels of inflation adjustments (annual increases in spending). The results of the analysis can be surprising.
Below is a summary of the facts that apply to all three cases for Joe & Mary Client. The variable that we are isolating here will be #4 – Living Expenses (current and in retirement) and annual increases in living expenses.
Current ages: 56 / Retirement: At age 65 / Life expectancy: 90 years
Current value of investments: $2.3 million; annual growth of ~7% per year
Income in retirement: $55,000 from Social Security
Expected Living Expenses: $170,000 currently and in retirement, with annual inflation of 2.6% (approximate historical average)
Below is an estimated lifetime cash flow graph using these variables (and many more):
Base CASE #1 - Living Expenses in retirement $170,000, increased by 2.6% annually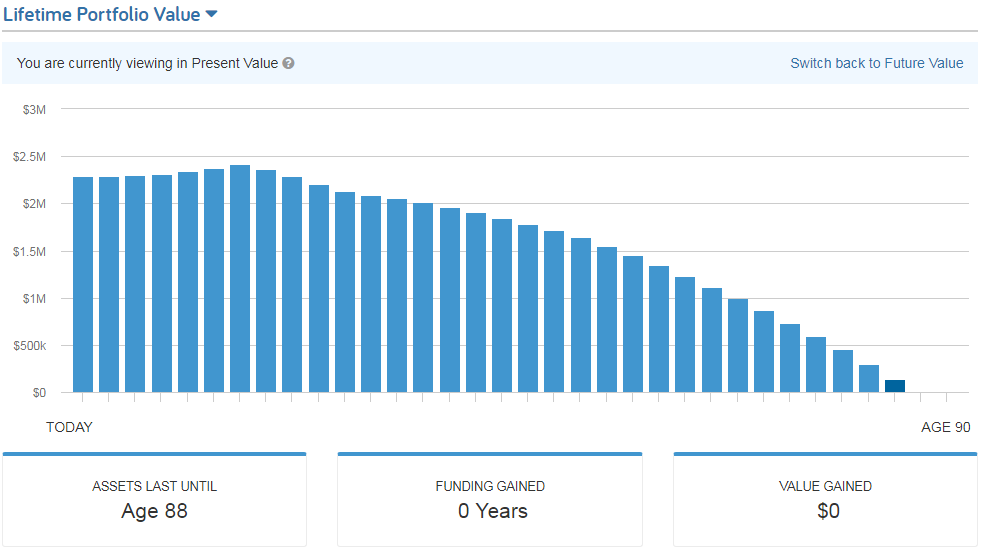 Key Takeaway: They could run out of money near Age 90 or sooner. This is not a comforting projection!
---
Now we will change ONE Factor. We will reduce living expenses to $160,000 per year (from $170,000 per year) in retirement only. This means they will continue to spend $170,000 until age 65, still at the assumed expense growth rate of 2.6%.
Base CASE #2 – Living Expenses in retirement reduced to $160,000 from $170,000, increased by 2.6% annually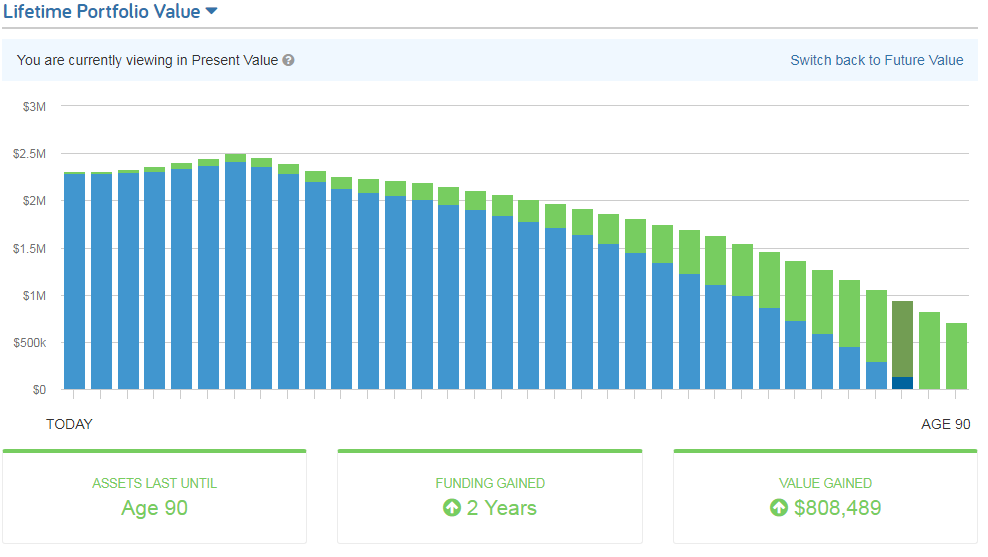 Key Takeaway: They might not run out of money, but it's a little too close for comfort.
---
Now we change one more factor: We keep living expenses at $160,000 per year (from $170,000 per year) in retirement and increase spending each year by just 1% (instead of the earlier 2.6% increase).
Base CASE #3 – Living Expenses in retirement reduced to $160,000 from $170,000, increased by just 1% annually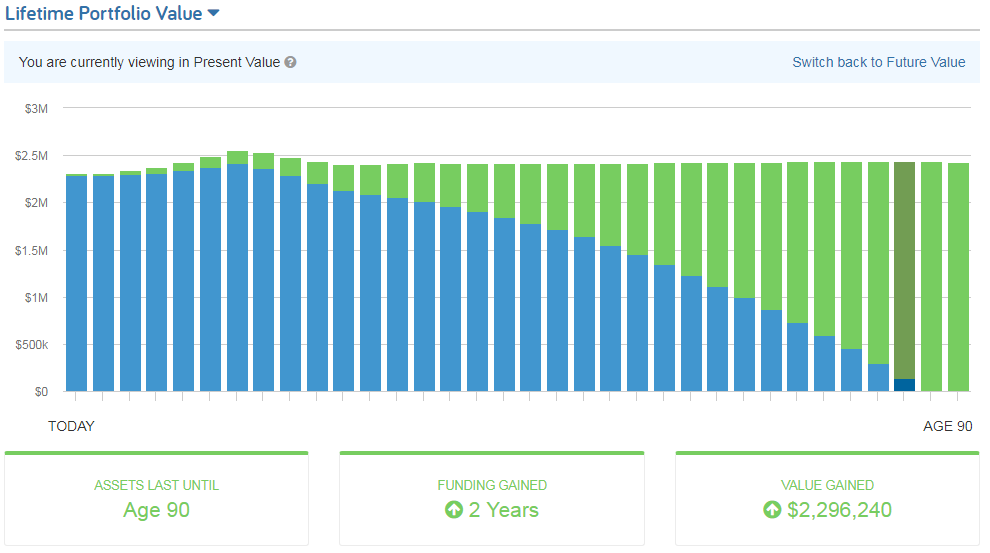 Key Takeaway: It is unlikely they run out of money. This is a much more comforting projection!
What's interesting about this analysis is the outsized impact of inflation adjustments. By increasing spending by just 1% per year instead of 2.6%, Joe and Mary significantly improved their probability of success. It's not fun to lose purchasing power a little each year, but it can certainly provide for a much higher degree of confidence in our retirement strategy.
Here's the bottom line: We can only control what we can control, and one of the most critical and variables under our control is our spending – both the level and the rate of growth. These spending variables have a substantial effect on chances for an independent and dignified retirement. This is why we view this discussion as an important part of how we help clients.
Just as we can't control whether the shot goes in or the kick goes through the uprights, we can't control the markets or economy. But we can control how much we spend both before and during retirement, which is the retirement equivalent to "keeping our eye on the ball."
---
One of our most important responsibilities to client and prospective clients is to communicate in an open and direct manner. Some of our comments in this presentation are based on current management expectations and are considered "forward-looking statements". Actual future results, however may prove to be different from our expectations. We cannot promise future results. Any performance expectations presented here should not be taken as any guarantee or other assurance as to future results. Our opinions are a reflection of our best judgment at the time this presentation was created, and we disclaim any obligation to update or alter forward-looking statements as a result of new information, future events or otherwise. The material contained herein is based upon proprietary information and is provided purely for reference and as such is confidential and intended solely for those to whom it was provided by JIC.