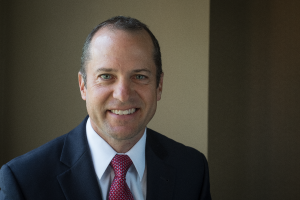 Jason Jackman's boyhood unfolded in numerous settings. The shortest time he lived in a place was one year (Wilkes-Barre). After that, it was a basic four-year rotation (New Jersey, New Hampshire, Pittsburgh and on). His dad worked for JC Penney and was periodically reassigned to manage another store in another state.
"My memories of childhood are wonderful. But I guess I wrote some fairly heart-wrenching poems about this moving van or that moving van pulling away from the curb. It had to have been tough to start over, leaving friends, having to make new ones. My parents must've felt awful when they saw my poems."
He laughs, shaking his head at the memory of those early times. Years later, he would enroll at Wittenberg University and meet Amy, the woman he would marry. He would follow her to Cincinnati, where she found work as a chemist.
He would see a help-wanted ad and hire on with Johnson Investment Counsel.
Here's the thing: When Jason moved to Cincinnati, he was eager to sink roots and really make the Queen City his home. At the time, the firm wasn't particularly known for being involved in the community. Jason pushed the firm to let him play various roles in the community, taking over a few board seats from founder, Tim Johnson, encouraging other members of the firm to do the same. Sinking roots.
"I think that's one legacy I brought to the firm. People began to see community involvement was beneficial for their own personal development and for the business as well. Now it's one of the firm's true tenets. Just about everyone here is on a couple of boards. I'm pretty proud of that."
From his mother, Jason learned to put the needs of others first. "Everywhere we lived, she'd volunteer at school and church and find a lonely little old lady in need."
He gets his work ethic and a love of the outdoors from his father. "It was a lot of fishing and a lot of canoeing with Dad. When I graduated from college, he took me to northern Saskatchewan, way up near the Arctic Circle fishing for northern pike and Arctic grayling. Best fishing trip I've ever been on."
He and Amy live in Ft. Mitchell, with children Nick, Eric and Matthew. Jason and the boys have a tradition where each gets to pick something special to do with Dad. This has resulted in a backpacking trip to the Red River Gorge, building a tipi in the back yard and taking in a UK game at Rupp Arena. "It's good for me, good for them."
Jason says he came to the firm by happenstance, but it quickly felt like home.
"I've developed a passion for the place – the people here, the mission, the fact we're making a difference in peoples' lives every day … It's the focus on clients.
"Those values are completely aligned with where I am and where I want to stay."