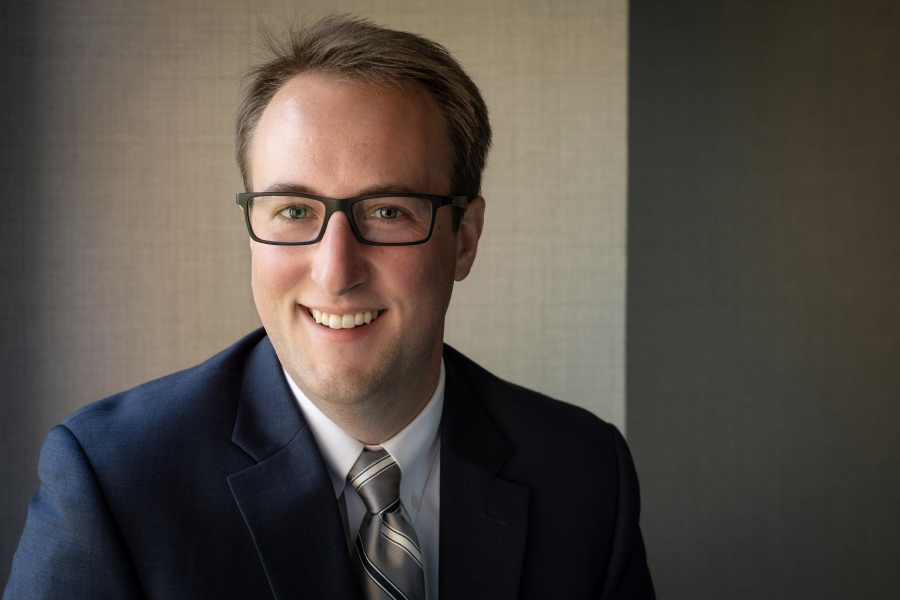 Andrew M. Kucia, CFP®
Portfolio Manager
Wealth Management Services, Cincinnati - Kenwood
Andrew Kucia (pronounced KOO-sha) doubts he'd be working with people and their money if he were anywhere other than Johnson Investment Counsel."The work we do with our clients involves so much more than the nuts and bolts of moving money around. Here, we develop actual relationships. I want to talk to people, find out about their lives, figure out what matters to them and how their money can move them in that direction."
There is a clear consistency to Andrew's life. He grew up in Hyde Park, the youngest of three siblings, and is the product of a parochial education, from St. Mary's to St. Xavier High School to Xavier University, which is two miles from where he grew up and where his parents still live. His father has a small advertising agency, and his mother worked for 35 years in artwork management at Procter & Gamble.
Except for occasional vacations, he has never lived anywhere else.
"For one reason or another, I'm the type who sticks around. I like to be near family, around people I know and love. I get the text a couple times a year asking if I can move a dresser to the third floor. That kind of thing matters to me, being nearby, being available to my family."
Andrew has a start on a family of his own. He and his wife, Kristen, have a daughter named Charley, after Kristen's grandfather. As of the summer of 2022, Charley was coming up on her second birthday. He'd like it if he and Kristen can provide Charley with a couple siblings before they're done. He talks about how his parents sacrificed to give their children good starts in life, and he wants to do the same for his own tribe.
He is an eager reader, drawn mostly to subjects involving psychology and philosophy. His taste in fiction runs the gamut from "Huckleberry Finn" to Kafka's "The Trial" to "1984." He has his grandmother's piano and hopes one day to learn to play it – although he imagines any serious lessons will have to wait until the kids are off to college.
He bought an offset smoker and, after his first year, had already smoked most of the barbecue essentials a few times. He likes having friends and family over and sending them home with the leftovers. Most of the Kucia side of Andrew's family are XU alumni, and he has been going to Xavier men's basketball games his entire life. His father's season tickets go back 35 years. "We are not casual fans," he says.
There is some irony in that Andrew is a portfolio manager, but one who doesn't consider himself a financial person as such.
"I didn't grow up following the stock market intensely. But after eight years at Johnson Investment Counsel, I'm happy with how well my role here fits my desire to help people and discuss meaningful decisions and topics with them. I have a lot to be grateful for."